Contact
Thank you for visiting my site. Feel fre to contact me at
info@marcobarsanti.it
About me and my works
I started to dedicate myself to photography at the beginning of the 80's as an autodidactic. Then, experiences in the United States helped me to achieve a deeper understanding of photography and to improve the knowledge that I had at that time. In 1994, a seminar with photographers like John Sexton and Morley Bear stimulated me to explore the contents of photographic language from a wider point of view.
The landscapes of Tuscany, the place where I was born, has slowly become the main subject of my pictures; looking through its nature I discovered the beauty that lies behind small things. Therefore I tried to show in my pictures that a single subject like a rock or a tree can have different types of interpretation. Now I feel something special when I portray the harmony of human form inside the landscapes; female body as an expression of beauty and sensuality, evocates my feelings for belonging and fusion with nature.
Today I dedicate myself to the teaching of the techniques and Historical aspects of photography.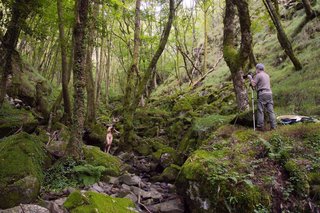 Ho iniziato a dedicarmi alla fotografia nei primi anni ottanta come autodidatta, poi alcune esperienze specifiche in terra americana mi hanno stimolato ad approfondire le mie conoscenze. Nel 1994 un incontro-studio con i fotografi John Sexton e Morley Bear mi ha consentito di esplorare in maniera più estesa i contenuti del linguaggio fotografico.
Il paesaggio dei miei luoghi è divenuto a poco a poco il soggetto principale delle mie fotografie; osservandone gli aspetti naturali ho scoperto la bellezza nelle cose più abituali e semplici. Pertanto ho cercato di descrivere come in una roccia o in un albero possano essere presenti altri significati. Oggi sento qualcosa di speciale nel ritrarre l'armonia della figura umana nel paesaggio; Il corpo femminile, espressione di bellezza e sensualità, rievoca in me il senso di appartenenza, di continuità con la natura.
Attualmente dedico particolare impegno all'insegnamento tecnico e storico dell'arte fotografica.